Shroud PUBG Settings: Mouse, Video Settings + Gears & Setup
Shroud is a famous name and one of the most celebrated gamers in the world of online multiplayer games. His real name is Michael Grzesiek, who is basically from Mississauga, Canada. The player is 27 years old who was born on June 2, 1994.
He is famous worldwide for his name as "Shroud" in the esports universe. He is also known very well among the fans because he streamed numerous games over the years.
Shroud has played various games, and PUBG is one of the games from where he gained a lot of popularity and name in the business. When we talk about one of the best players in PUBG, we also consider Shroud in them. This guy is a Canadian Streamer that has great streams over the web for PUBG gameplays.
Shroud's Settings
You must be wondering what settings Shroud must be using for his gaming, and you may want to apply them for your game as well. Remember that he is amongst the elite players of PUBG, and he has years of experience in online multiplayer games like CS: GO. Before looking at the settings that Shroud has set for his game, you might want to have a look at the PC specs that he uses for playing PUBG.
Shroud's Gaming Setup
Shroud plays on a very powerful gaming system that includes the latest processors as well as powerful RAM, and the GPU is also very powerful as well. The complete specs of Shroud's gaming system are shared below.
Shroud's Video and Graphics Settings in PUBG
According to Shroud's PC, it has high specs for which he has performed high settings as well with the game. You can see the Video and graphics settings by Shroud for PUBG below here.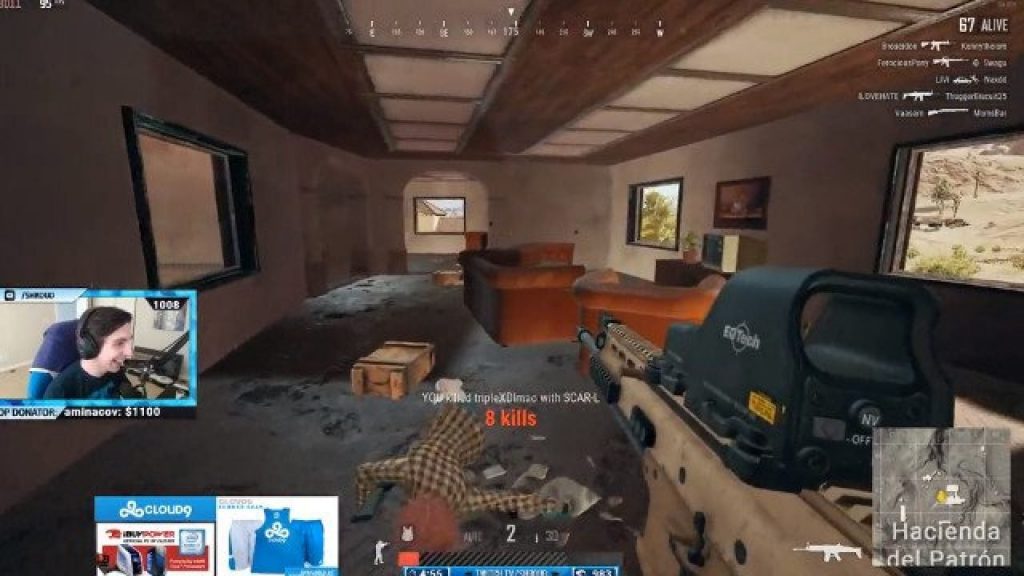 Mouse settings in PUBG
Mouse settings are crucial to increase skills for better gameplay and also to deal with close combats very well. Good mouse control settings help to fight off the enemy better in combat, and you can use the settings that Shroud uses for his game style.
Following settings for mouse have been shared below that Shroud uses in his PUBG game.
This was a discussion about the best Shroud PUBG settings that he uses for his PUBG game. All the details for his video and graphics, as well as for mouse sensitivity, have been shared so that you can adopt and see which settings can work best for you. 
FAQ's
What sensitivity does shroud use in PUBG? 
Shroud uses the followings settings for mouse sensitivity to play PUBG.  
DPI is set to 450. 
Vertical Sens. M.1.00  
General Sensitivity is set to 55 
Scoping sensitivity is set to 55 with targeting sensitivity at 50 
The iron sight sensitivity that Shroud uses is 50 
2x, 3x, 4x and 6x scope sensitivity that Shroud use is 50 
8x scope sensitivity that Shroud uses is 47 
What DPI does Shroud use PUBG? 
Shroud uses 450 dpi settings for his mouse with a polling rate of 500 Hz. 
What Monitor does Shroud use 2021? 
Shroud uses a BenQ ZOWIE XL2540 monitor for playing PUBG.
How much RAM does Shroud use? 
Shroud uses G. SKILL TridentZ RGB Series 32GB RAM for his gaming setup. This powerful memory allows you to run multiple applications and screens to support various programs altogether without any lag or delay. It gives a high-performance experience for your ultimate gaming needs and an error-free smooth experience.
What keyboard does shroud use in 2021? 
Shroud uses a Logitech G Pro X Mechanical GX keyboard for playing PUBG in 2021. 
Why is Shroud so popular? 
Michael Grzesiek, who is known by the name Shroud has been a part of the gaming scene ever since from the beginning of Counter-Strike: Global Offensive. He was a great player back then, from where he improved his skills further and shifted on to new games with his unique and improved gameplay style. He became very popular on his streams because of his different and very fast gameplay style and the ability to use any type of weapon to fight against the enemy.