Best RTX 3080 Graphics Cards in 2021
There has never been a better time in recent memory for graphics cards, due to the massive generation jump offered by Nvidia RTX 3000 series GPUs. The RTX 3080, in particular, provides remarkable performance for the price, allowing you to comfortably run AAA games on high settings today and in the future. In this post, we will go through the top five GeForce RTX 3080 GPUs so that you are completely informed of all the characteristics and can select which one to purchase for your PC.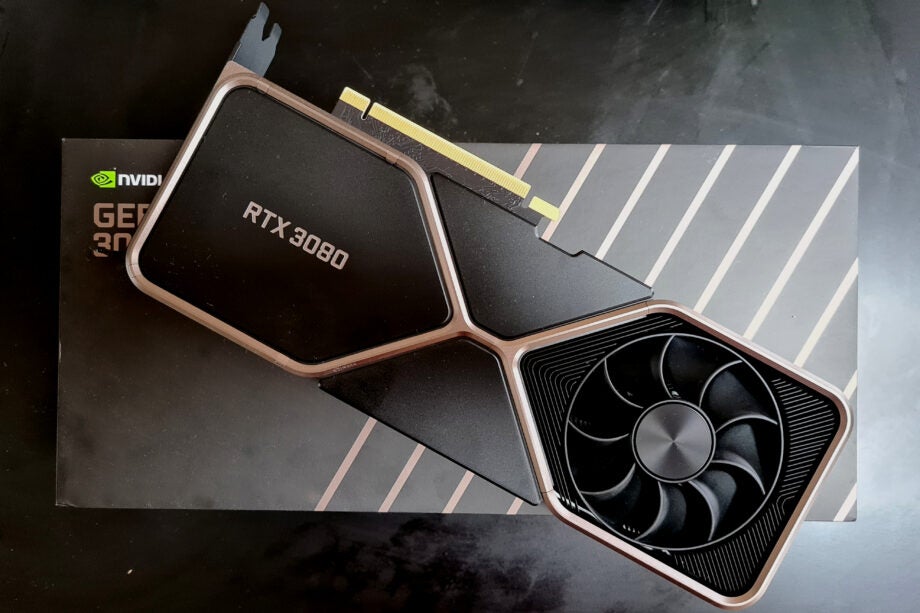 What to Look when to Buy Best RTX 3080 Graphic Card
The following factors should be considered while selecting the best RTX 3080 Graphic Card.
Size
The RTX 3080 cards are a touch on the big side, so keep that in mind when thinking about fitting it into a PC setup. Mid-tower PC cases should be able to accommodate one of these cards, but if you need more room, a full-tower PC case may be the best alternative.
Cooling
You may anticipate the RTX 3080 to get hot due to its graphics output. So, while looking for your chosen option, check for cooling improvements that manufacturers have achieved over prior generations of their GPU family. Companies such as MSI and EVGA, for example, have clearly demonstrated that the addition of new fan systems and heat dissipation tools was both essential and, more importantly, effective. However, this does not always imply that it will be freezing cold, so make sure you have a large case with enough airflow to maintain your 3080 GPU at ideal temperatures.
Best RTX 3080 Graphic Cards (Reviews):
Choosing the top Nvidia RTX 3080 graphics cards is no easy task, but we succeeded by focusing on certain key features that we believe distinguish the better GPUs from the lesser options. Some of these criteria were cooling, integrated technology, and aesthetics, since we feel these are the most important factors that consumers seek in a graphics card. Because we all know how powerful the new RTX 3080s are, looking at these other factors can help you purchase a better graphics card for less money.
#1
MSI NVIDIA GeForce RTX 3080 10GB GAMING X TRIO
As far as cooling and other elements that increase the card's overall capabilities are concerned, MSI has always been a leader. Their RTX 3080 Gaming X Trio 10G is another achievement, improving on the existing excellent cooling while maintaining the familiar looks.

Let's start with those incredible cooling abilities. Even under extreme conditions, the MSI Gaming X Trio's Tri-Frozr2 cooling system will keep your 3080 cools. The redesigned Torx Fan 4.0 blades are intended to offer even more effective thermal dissipation. But it doesn't end there. The thermal pipes are intelligently engineered to ensure optimum contact, dispersing any heat throughout the whole heat sink and assisting in maintaining ideal operating temperatures.

This 3080, on the other hand, is a behemoth, spanning 323 x 140 x 56mm and occupying three PCI slots, making it the largest in MSI's Gaming Trio series. As a result, you'll need a large case to accommodate a card of this size, thus ruling out Mini ITX setups. On the other hand, MSI recognizes its size and has included a robust anti-bending strap, which should give you peace of mind that your new GPU will not warp.

The only other minor issue is that it requires three 8-pin connections, which are not required by other cards. However, this does offer you the opportunity to put more power into the card and, as a result, enhance performance through significant overclocking.

Pros
Extremely powerful
Cooling system: TRI FROZR 2
#2
EVGA GeForce RTX 3080 XC3 Ultra Gaming
This time, EVGA's XC3 Ultra Gaming line of GPUs is another high-performing model. With their RTX 3080 model, MSI has enhanced the cooling architecture even further, allowing the heat created by the graphics card's tremendous power to drain quickly. This is accomplished by cleverly including airflow chambers into the heat sink, which lets the air travel more freely, especially when the card is used in high-intensity scenarios. 

Furthermore, heat dispersion has been entirely improved owing to the new 180-degree heat pipes, which increase their contract area. All of these new features will almost certainly prevent your EVGA RTX 3080 from overheating anytime soon, even when playing graphically demanding AAA games.

While it's While keeping your new RTX 3080 cool is excellent, what about those noise outputs? EVGA has considered this, and your ears will thank you. The new fans are jam-packed with additional modes and functions that provide a wide range of benefits. The first is a silent, 0DB mode, which does exactly what it says: it decreases fan noise to an absolute minimum. Even with the power of the RTX 3080, this equates to excellent noise reduction, especially when compared to earlier versions of EVGA graphics cards.

Finally, let's have a look at the aesthetics. Due to its size and more blocky structure, it doesn't appear as sleek as the 2080 or 2080Ti, but it still has a well-designed body overall. Furthermore, the card features an RGB-lit EVGA logo, which many will find to be a welcome addition, especially if you already have an RGB-lit gaming PC.

Pros
Fan mode that is completely silent.
Extremely strong.
Cons
It's not as attractive as MSI's version.
#3
ASUS TUF Gaming Nvidia GeForce RTX 3080 OC
As far as performance is concerned, the ASUS TUF Gaming OC is the best option. To begin with, ASUS has added their tried-and-true axial technology, which essentially means that all three fans work together to offer the cooling necessary by the powerful 3080. These fans also eliminate the benefits of dual ball fan bearings, which have been proved to be significantly superior to sleeve bearings and other bearing types in terms of consistency and lifespan. 

It also has a fan-stopping function that kicks in when the GPU temperature goes below 55 degrees.

The TUF Gaming RTX 3080 also performs well in terms of heat dissipation, thanks to ASUS's use of a specifically developed manufacturing method that improves the heat spreader's surface smoothness, even at a microscopic level. As a result, the contact area rises, enhancing heat transfer and, in turn, resulting in a cooler graphics card overall.

For the GPU, it comes in a 2.7 PCI slot version that's large, but also one of the smallest 3080s on the market, saving you space and allowing for improved ventilation in general. Furthermore, the entire metal shell looks beautiful and should blend in nicely with any clean PC setup, especially when combined with the TUF Gaming logo's discreet RGB lighting.


Pros
New thermal technology has been developed.
Other versions are smaller.
Cons
Others appear to be more attractive.
If you want to dramatically boost the performance of your PC or build a new PC on a budget, all of these Nvidia RTX 3080 GPUs are fantastic choices. But our top RTX 3080 option, the MSI Gaming GeForce RTX 3080 Gaming Trio 10G, offers it all: great aesthetics, excellent cooling, and the MSI quality you've come to expect. When it comes to budget-friendly ZOTACs, on the other hand, you can't go wrong. Even while it lacks the beauty of the more expensive RTX 3080 graphics cards, it still performs well and offers some of the greatest features available today.
FAQ
What Kind of Power Supply Is Required for an RTX 3080?
Great graphics card performance necessitates a significant increase in power consumption. Essentially, this means you'll need a high-wattage power supply to ensure your PC has the energy to handle the increased demand of an RTX 3080. As a starting point, most RTX 3080 graphics card versions require about 750W of power, which means you should calculate the rest of your PC components to determine whether you need to acquire a larger capacity power supply.
What Motherboard Is Necessary For An RTX 3080?
Due to the 3080's PCIe x16 nature, there aren't many motherboards that won't support it today, but we think you'll want to combine it with a newer CPU like the Ryzen 5000 series or a 10th gen Intel chip. Since a result, for AMD CPUs, we recommend the X470, X570, B450, or B550, and for Intel processors, we recommend the Z490, as they will all be compatible with the latest technologies.
Is the RTX 3080 capable of surviving the future?
Though a 3070 is comparable to or slightly better than a 2080ti, which was last generation's beast card, the 3070 will keep you gaming for a long time, it is not future proof.