Best Gaming Mouse 2023 to Buy Under 300 to 5000
The best gaming mouse is the ones that provide cool features and essentials to perform well in multi-tasking or for gaming purposes. Such gaming mouse can have various buttons, and each of them can be assigned a specific task or action to perform. These mouse buttons are useful along with the DPIs and the sensitivity of a mouse that works great in the use of different kinds of applications.
The best kind of gaming mouse is actually those who find the primary way to fulfill your need for gaming and to use huge software in order to make them perform really well. They have good sensors and a good grip for the hand so that you can sit the whole day tightly long, performing your tasks and relaxing your time to the end of the day.
Selecting a gaming mouse might not be as easy as it seems to be because it requires a lot of considerations to keep in mind to find the best option. We have listed some tips for you that you can check before you make a selection of your gaming mouse.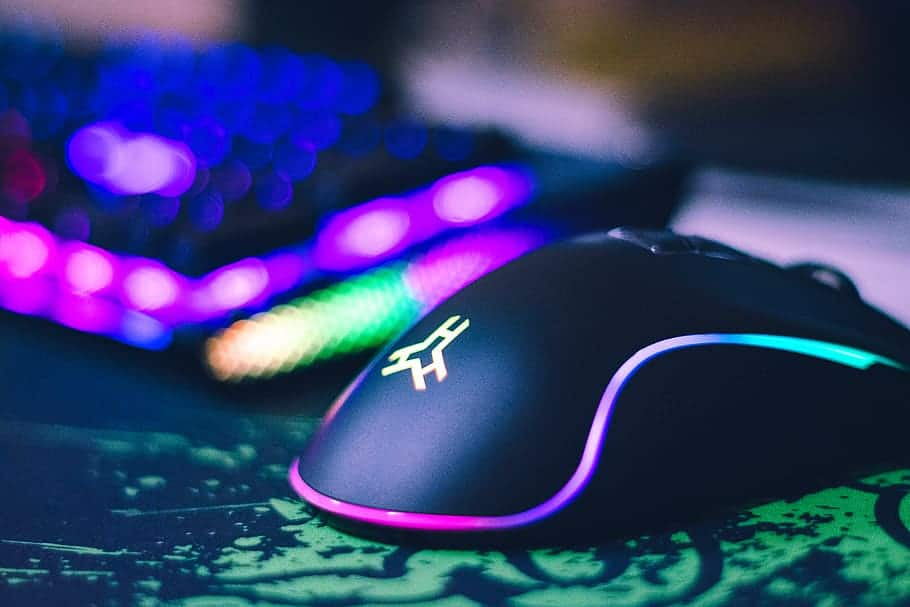 Mouse Tips
Following are the tips to keep in mind while shopping best gaming mouse for yourself.
Optical or Laser: There are 2 sensor types in the mouse that can both serve as an accurate movement. The optical ones have better accuracy, and the laser mouse is meant to be used on a surface type that supports well with its sensitivity. The optical mouse is usually preferred over a laser.
Wireless or Wired: Wireless mouse can be used from anywhere at a certain distance which means you can even use them while laying in your bed without worrying about the cable, but this type of mouse has limited battery life and potential latency. A wired mouse is always a better option with good response time and USB port support for easy connectivity.
Grip: The grip is another factor to consider as it's important how you hold your mouse and does it fit your hand perfectly or is it easy to feel and use the mouse with your hand. You can understand all grips type by using a mouse, whether it has palm grip, claw grip, or even the fingertip grip.
DPI: DPI is the Dot Per Inch which is counted in mouse with regards to image printing, and it's effective if your mouse has good CPI and DPI settings. Choose an option with good DPI settings.
Best Gaming Mouse 2023 List
Now, as we understood what the important things to see in a gaming mouse are, now we move to the list of the best gaming mouse that you can find in the market.
#1
Razer Basilisk V2
– The mouse has a number of buttons that can help you set multiple keys for actions to perform as quick responses.

– It is sensor-packed, having DPI reaching up to 20,000, which makes it an excellent tracking mouse that makes single clicks pretty accurate.

– The 11 buttons on this mouse are for quick scroll, cut, and various other quick access options that also have a good sensitivity to roll over the screen.

– The Razer Focus+ sensor makes it an absolutely useful mouse with 50g acceleration and a USB interface along with 650 IPS.

– It is a right-handed mouse with programmable buttons.


The Razer Basilisk V2 is the best among all of the gaming mouse as this mouse has great versatility and an impressive number of features. This gaming mouse is all that you need instead of wasting money on any irrelevant mouse that might ruin your mood. The features that are packed with this gaming mouse are.
Pros
Accurate tracking
Ergonomic right-hand design
Plenty of customization options
Best Gaming Mouse Under 300
Now consider the list of gaming mouse under 300; we have the following options.
# 1
MARVO M205 Wired Gaming Mouse
Best Gaming Mouse Under 300
– This mouse comes with 6 programmable buttons that you can set according to your quick selection for games and multitasking.

– It comes with a blinking light inside that changes the logo color on the top.

– It has different DPI options from 800, 1200, 1600, and 2400.

– The backlight of this mouse has seven changing colors, and it has a USB 2.0 connectivity option along with a cable of 1.6m.


Marvo M205 is a wired mouse for gaming that comes under 300 price, which is the best affordable gaming mouse for you if you are running low on budget. It has an optical sensor and 6 buttons which gives pretty good easy access options to the users for performing various tasks. You have the option to switch DPIs in this mouse that has various ranges. There is a color-changing logo at the top that gives it an additionally attractive look. Some features of this gaming mouse are.
Pros
It has good DPIs
6 programmable buttons
USB port and wired gaming mouse with good sensitivity
#2
Redgear A-15 Wired Gaming Mouse
Best Gaming Mouse Under 300
– The mouse has different DPI options that can change up to 6400 DPIs.

– It has cool RGB lighting with a Semi-honey-comb design that is ergonomic and easy to feel in hand.

– There is a button for changing DPIs, and all the buttons are very durable and long-lasting.

– It has a gaming-grade sensor along with a USB interface, and you can even customize the RGB lighting of your mouse with Redgear software.


When you want to consider a mouse for your gaming purpose, then Redgear A-15 is another option if you are low on your account budget and you want a mouse under 300. Having a semi-honey comb design, this mouse has RGB backlighting. You get a good grip on its body due to its design, and the DPIs in this mouse is also adjustable. There are various features in this gaming mouse.
Pros
Good lighting with customizable option
High DPIs support
Easy connectivity and high sensitivity
Reasonable price
Best Gaming Mouse Under 1000
Now we see the best gaming mouse options under 1000.
#1
Ant Esports GM200W Gaming Mouse 
Best Gaming Mouse Under 1000
– The mouse runs on an advanced chip that provides good sensitivity and a hyper-fast scroll along with a special backlight on it.

– It has an adjustable DPI option, and you can set them according to your will.

– The built quality of the body of this mouse is pretty good, and the design fits your palm very well as well.

– It comes with 7 programmable buttons that have customization options too.

– It is a direct plug-and-play mouse that doesn't require any driver installation process.

The GM200W gaming mouse is the best option under 1000 because this mouse has smooth usage and a very good grip for gaming. Having an adjustable DPI, this mouse is your choice for the price that it has. You get 7 buttons and a very good scroll with this mouse that makes your activities and tasks perform well. Some amazing features of this gaming mouse are.
Pros
7 customization buttons
Adjustable DPIs
Good and reliable quality
Highly satisfying speed
Cons
The side buttons of this mouse are sticky
#2
TRUCASE (TM) 3200 DPI  
Best Gaming Mouse Under 1000
– It has good adjustable DPIs from 1000-3200DPI with easy switching buttons.

– It has an optical sensor, and it works very well with tracking systems.

– There is a changing light at the top of the mouse in which colors change after every second, and the body is very beautifully designed to last longer.

– It has support for external software that is called X mouse Button Control that can unlock various features of the mouse.

Another entry-level gaming mouse under 1000 is the TRUCASE TM which is a wonderful pic for those who love budget-friendly options. This mouse can give you a wonderful experience with its Avago sensor and Omron microswitch, which is compatible with Windows 7, 8 and newer versions, and the sensitivity and movement of the mouse are very smooth and energetic. Following features are packing in this gaming mouse.
Pros
It has easy switching between DPIs
Good sensitivity and optical sensing mouse
Backlight and ergonomic design
Avago sensor and Omron microswitch
Cons
The light intensity is less
The size of the mouse is big
Moving to the next category, we have some best mouse options under 2000.
#3
Logitech G102 Prodigy 
Best Gaming Mouse Under 2000
– It has a built-in gaming grader sensor for the accuracy of the cursor for tracking and gives a very responsive result.

– The sensitivity can be adjusted from 200-8,000 DPIs, which is pretty nice.

– The left and right buttons of the mouse are pretty good and long-lasting.

– There are 6 programmable buttons included on this mouse, and use in-game commands with them.

– Logitech G Hub is supported that improves and gives a better experience with the games and fine-tuning controls.

Logitech G102 Prodigy is your best mouse selection if you want a gaming mouse under 2000. This mouse is among the best gaming mouse models from Logitech as it has LightSYNC with itself that makes a perfect match with your GPU. It can also be synced with your monitor screen for an amazing experience. There are various customization options with this mouse with its screen sampler. A lot of features of this mouse include.
Pros
Gaming grader sensor for perfect accuracy
6 programmable buttons
High DPI sensitivity
Good buttons for good quality
Cons
Replacement for any part is hard to find
#4
Redragon M808 Storm
Best Gaming Mouse Under 2000
– This is a mouse with customizable DPI that can vary and can be changed up to 12400, which is more than enough and best for high-performance mouse models.

– The lightweight material in the construction of the body of this mouse makes it an ideal choice for gaming as it's easy to scroll and slide.

– There are 16.8 million colors supported for the eye, and its coloring can be adjusted and changed with the use of software from Redragon.

– There are programmable buttons for adjusting key bindings and quick access through the keys from where users can also adjust the DPI settings as well.

– A lot of features are usable for playing the latest and high-end games with more controls.

The next addition to our list of the best gaming mouse is the Redragon M808 Storm, which comes as a lightweight gaming mouse having some impressive features with a honeycomb shell design. This mouse is light and easy to scroll and slide, and the external finishing provides a good grip for your palm and makes it a suitable choice to use in all kinds of environments. There are various features in this gaming mouse that are listed below.
Pros
High DPI support
Perfect construction and sturdy design
Multi colors supported
Programmable buttons for gaming
#5
Tecknet Raptor M268 3200DPI Gaming Mouse
Best Gaming Mouse Under 2000
– The body of this mouse is rugged in design that provides a great grip on your palm and fits perfectly to your gaming style.

– The sensor response is very good, and you can enjoy the latest games with pretty good settings with this mouse with its 6D optical mouse technology.

– The DPI support of this mouse varies from 1000, 1600, 2400, and 3200, and you can change that by clicking your mouse buttons.

– This mouse slides easily on any surface, and its sensitivity is not affected by anything at all as the sensor in it is very responsive.

– There are six buttons that provide good control for your gaming through easy access of settings and well-designed mouse settings.

– The cable included with this mouse is pretty durable, having a USB connection, and the 6 buttons can be used with its switching DPIs easily.

– It delivers high accuracy in gaming to most of the users for the price that it is available for.

The Tecknet is a brand that manufactures some good mouse models for gaming, and one of their optimal models with a price under 2000 is the Raptor M268 with 3200 DPI. It is a gaming mouse built for only one purpose, which means Gaming. Users can get the maximum benefit from this mouse as the standard features of this mouse include 6D optical technology having BlueWave Sensor. It makes this mouse pretty unique with the following features.
Pros
Good design with a rugged body and good grip
Good performance level at all conditions, including games
One of the reasonably priced option in the gaming mouse list
Can be used with both right and left hand easily
Cons
Very limButtons need to be manually operated when in used in stock.
Best Gaming Mouse Under 3000
Now we talk about the best mouse models that you can get under 3000.
#1
Asus ROG Strix Lightweight Optical Gaming Mouse
Best Gaming Mouse Under 3000
– This mouse has DPI switch settings and options, which means you can switch to any sensitivity that you want when you are using the computer by using a simple click.

– This is a USB-connected wired mouse for gaming having an optical sensor for great movement control and quicker response.

– There is additional RGB lighting in the design of this mouse that makes it a pretty amazing choice for your gaming setup.

– There is an Asus ROG Armory software that lets the users customize the buttons and lightings on the mouse pretty easily.

– The design is pretty unique, and it fits really well under your hand, providing you good control and an easy sliding option.

– The cable is sturdy with rubber coating and a low friction body, making the mouse a pretty usable product.

– It has 8 programmable buttons that let you control your various things on the screen just from the click of your mouse.

The Asus Rog Strix is a wired gaming mouse with a very lightweight body, and this mouse has given all the features of the next-level gaming experience with its high sensitivity and good control. This mouse is ultra-responsive when it comes to movements, and you can easily switch between the DPIs of this mouse having RGB lighting for additional look and design. The styling and design of this mouse are pretty eye-catching, and you can look further at its various features.
Pros
Friction-free rubber cable.
Easy Buttons function customization.
Great Design
Adjustable DPI up to 6400
Omron switches.
#2
Asus Espada GT200
Best Gaming Mouse Under 3000
– This mouse has 9 programmable buttons that give you a lot of options for customization and the choice to let you use quick access through these buttons.

– The design of this gaming mouse is very well constructed to fit well under your hand and keep you comfortable as long as you are using the computer.

– There is an LED logo backlight on this mouse that has a customizable option with RGB Colors through the use of the software.

– It has changeable DPI settings that can change up to 4000 DPIs.

Another mouse option that you can get for under 3000 is the Asus Espada GT200. This mouse is pretty much the best gaming mouse for medium-ranged gamers who want a suitable mouse that holds enough capacity to adjust with online multiplayer games as well as with the latest releases. Having an Avago Sensor, this mouse also has a cypress microprocessor. You get smooth and accurate controls with this mouse. Other various features include.
Pros
Avago 3050 gaming sensor
9 programmable buttons
Omron Switches
Adjustable DPI
Cons
The buttons can get sticky
Best Gaming Mouse Under 5000
For a high price tag, you get a better gaming mouse. Now we discuss the best gaming mouse under 5000.
#1
SteelSeries Rival 110 Optical Gaming Mouse
Best Gaming Mouse Under 3000
– The mouse comes with backlit RGB lighting that changes with the performance and tasks on your computer.

– There are textured grips on the sides of this gaming mouse that make it pretty much a better option for good hold and grip in all conditions.

– It has 6 programmable buttons for quick settings and easy controls with a simple finger touch.

– The body of this mouse is absolutely built to last under any conditions that make it the best choice.

The Rival 110 by SteelSeries is an amazing mouse that you can get for under 5000. This mouse has a pretty good ergonomic design, and it's pretty suitable to hold in your hand as long as you want to without even getting tired. There are side buttons on this mouse which are 6 in total, and all of them are programmable according to your choice. The mouse has a good scroll wheel for quick scrolling and navigation, along with various features.
Pros
Good body construction
High-performance mouse
6 programmable buttons
Quick scrolling and navigation
Cons
Scrolling can mess sometimes
This was a discussion about the best gaming mouse that you can get under different price ranges. We discussed all of the best options available in India. For more details, you can visit our discussion forums.
FAQ's
What Is The Best Gaming Mouse? 
The best gaming mouse in the wireless mouse category is the Logitech G502 Lightspeed. This mouse is the best fit for large and heavy-hand users. Having a long-lasting battery and all the latest features, it's the best selection with a well-rounded choice and good arrangement of the buttons. There are multi-grip styles and a lot more.
What Is The Best Gaming Mouse In 2021? 
The best gaming mouse in 2021 is.
Razer Viper Mini 
Corsair Sabre RGB Pro 
Corsair Scimitar RGB Elite 
What Mouse Do Most Of The Pros Use?
Most of the pros with heavy hands use Razer Deathadder with their pro settings, while Logitech G502 is the optimal choice for those who have large hands.