Mobile Legends Tier List December 2023 – Heroes Rank List
Mobile Legends game is an online free multiplayer battle arena game that has a long list of heroes that can be used to play and experience amazing in-game fighting scenarios. The game has some good features like quick matchmaking and quick gameplay sessions for quick battles.
The amazing multiplayer features let you get matched with players from different parts of the world, displaying their country as well. The two opposing teams have to fight against each other to reach the enemy base and destroy it completely.
It is a "5v5 MOBA" strategy game for battling your enemies online that was initially released in 2016 as starting its beta launch, which has grown now into millions of users joining the game each month. It is spread now all over the world, excluding in China. The game has plenty of heroes, each with different abilities and skills that you can use in battles.
Tier List Criteria For Mobile Legends Heroes December 2023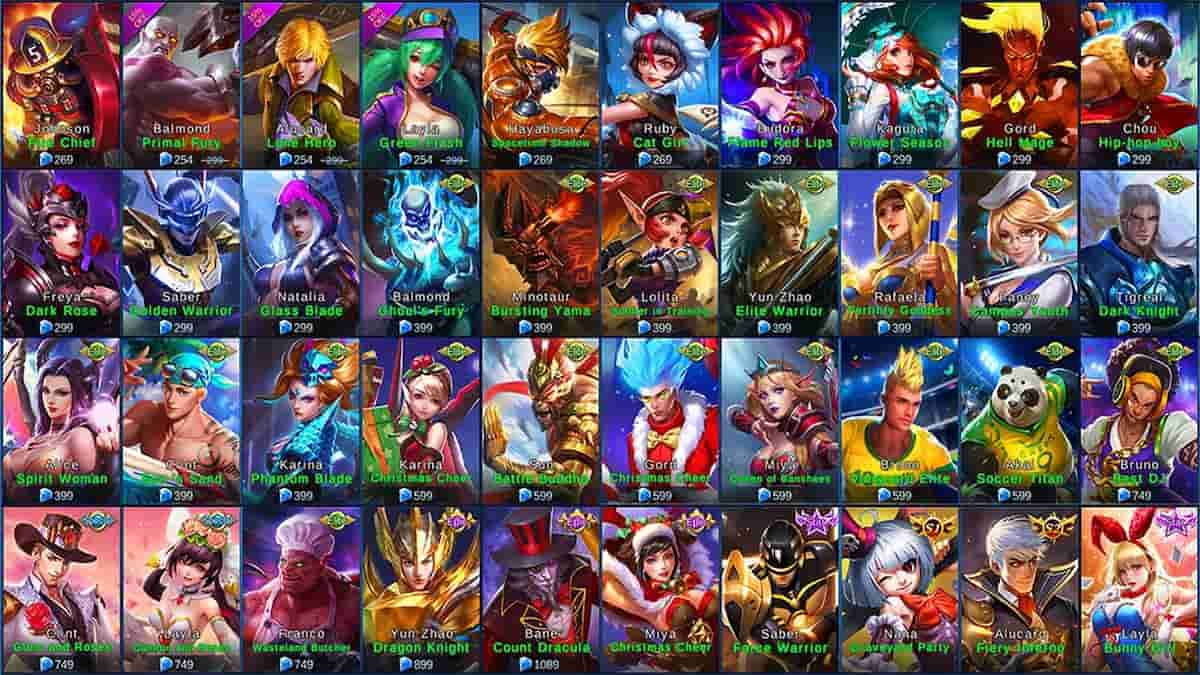 S+: The most strongest of the heroes are considered in this category which have significant power and they are not easy to beat.
S: The S class heroes fit in all situations no matter defense or attack. They are good in attack and perform well with the team when there is any battle type.
A+: These heroes perform well in most of the cases but they are not strong enough as the S+ or S class.
A: These are the heroes that can have good abilities but not good attacks that can affect the enemy much like the upper class heroes.
B: These heroes are mostly used for counter, as they don't have much damage attacks so they are not recommended for attacking enemies.
C: The weakest heroes which do not perform well in the match are in this category.
In this discussion, we discuss Mobile Legends Tier List 2023 with respect to the best heroes in each tier. So continue reading further to know more about the best characters of the game.
Mobile Legends Tier List December 2023 Table
| Tier | Marksman | Mage | Assassin | Fighter | Tank | Support |
| --- | --- | --- | --- | --- | --- | --- |
| S+ | Karrie | Luo Yi | Natalia | Freya | Atlas | Carmillia |
| | Granger | Pharsa | Hanzo | Badang | Khufra | – |
| S | Bruno | Esmeralda | Helcurt | Silvanna | Hylos | Diggie |
| | Kimmy | Lylia | Gusion | Chou | Lolota | Kaja |
| | – | Valir | Ling | Xborg | Grock | Estes |
| | – | Aurora | Lancelot | Masha | – | – |
| | – | Zhask | – | – | – | – |
| A+ | Lesly | Lunox | Hayabusa | Minsitthar | Uranus | Angela |
| | Wanwan | Hang'e | Selena | Martis | Tigreal | Nana |
| | Irithel | Gord | Fanny | Leomord | Franco | – |
| | – | Kagura | – | Dyroth | – | – |
| | – | Cecilion | – | Argus | – | – |
| A | Moskov | Harley | – | Jawhead | Akai | Faramis |
| | Claude | Kadita | – | Guinivere | Johnson | – |
| | Hanabi | Odette | – | Thamuz | Belerick | – |
| | Popol & Kupa | Harith | – | Aldous | Baxia | – |
| | – | – | – | Terizla | – | – |
| | – | – | – | Ruby | – | – |
| B | Miya | Alice | Karina | Lapu-Lapu | Hilda | – |
| | Roger | Eudora | – | Alucard | Minotaur | – |
| | Layla | – | – | Sun | – | – |
| | Clint | – | – | – | – | – |
| C | Yi-Sun Shin | Vale | Saber | Zilong | Balmond | Rafaela |
Best Mobile Legends Marksman
Marksman heroes are strong characters that tend to do high damage and very ranged attacks. The best marksman that you can get in Mobile legends is mentioned below.
Brody
Brody is the most powerful marksman character with great mobility and a set of AOE moves. A new user who is not familiar with the game might not find Brody as amusing to be used for attacks in the beginning, but when you get to know about charging up with his perfect basic attacks, this character becomes your ultimate marksman. Some of his characteristics are
Passive skill: Abyss CorrosionAbyss Impact
Corrosive Strike
Torn-Apart Memory
Wanwan
Wanwan is a female hero character in this game that specializes in high movement speed and can be proved good with Burst and Reap. It is not easy to master this character as it takes a lot of time to completely understand and get hold of this character, but it is highly recommended to use this character with its master skills. Some of the characteristics of Wanwan are.
Passive: Tiger Pace
Swallow's Path
Needles In Flowers
Crossbow Of Tang
Best Mobile Legends Fighters
Now we come to the next tier that includes Fighters, which are known for their melee range attacks and have a flexible set of skills balanced enough to help the team. These characters build up their damage with time, which can be useful for your team. The best fighters are
Yu Zhong
Yu Zhong is a unique character that has a different style compared to other heroes. This is a dangerous and powerful hero as it can be turned into a black dragon, which makes it extremely powerful. He is a recommended pick as his control and skills are mind-boggling that you need to master and see for yourself. Some of his characteristics are
Passive: Cursing Touch
Dragon Tail
Soul Grip
Furious Dive
Black Dragon Form
Chou
Chou is the next selected top fighter as this hero can kick his enemies out of their position with his amazing mobility and fighting skills. If you want defense in the middle of a fight, you can escape with the Dash. Chou is not easy to master as this character is quite difficult, but once you get to hold on to the skills, he is your strongest fighting weapon.
Passive: Only fast
Jeet Kune Do
Shunpo
The Way of Dragon
Best Mobile Legends Assassin
The next tier is for the best Assassin who love to target vulnerable enemies first. Assassins are not easy to handle characters as they require some skills of control to be executed properly in the battles. The best-selected assassins from this tier are mentioned below.
Helcurt
Helcurt is an Assassin that specializes in Burst as well as Push. This Assassin can help you blind the enemies in a battle or disable them with his skills. It is the ultimate choice if you want to master Assassin and make the best attacks on your enemies; Helcurt Jungler is the top-recommended choice.
Passive: Race Advantage
Shadow Transition
Deadly Stinger
Dark Night Falls
Benedetta
Benedetta is a unique assassin with very defensive skills as well as AOE skills with extra mobility. This character is easy to push up with the skills, but it's difficult to master her. Once done, you will have an amazing fighting experience.
Passive: Elapsed Daytime
Phantom Slash
An Eye For An Eye
Alecto: Final Blow
Best Mobile Legends Mage
Mages are the spell casters who damage enemies with spells and have crowd control. Remember that they are high priority targets, so use them wisely. The best mages are.
Luo Yi
Luo Yi can deal heavy damage from a safe distance, and it can also inflict crowd. If you know how to handle it, she is the best Mage that you can use in battles.
Passive: Duality
Dispersion
Rotation
Yin
Yang
Diversion
Chang'e
This hero has long-range spells, and his specialty is in Poking and Burst. This player is recommended to use it as a Side Laner after Luo Yi.
Passive: Trouble Maker
Starmoon Shockwave
Crescent Moon
Meteor Shower
Best Mobile Legends Tank
Tanks are aggressive and very strong heroes that are sent first in a battle due to high health. They are skilled enough to lock the enemies and protect their teammates as well. The best tanks are
Khufu
Khufu can lock down enemies and has crowd control skills to lead the charge. This hero doesn't let the enemy escape and hit them hard to stun on the terrain. Khufu has the following characteristics.
Passive: Spell Curse
Tyrant's Revenge
Bouncing Ball
Tyrant's Rage
Barats
Barats specializes in damage and crowd control, but the biggest advantage of using Barats is that it can absorb the energy of its enemies and grow bigger to increase defense. His characteristics are.
Passive: Big Guy
So-Called Teamwork
Missile Expert
Deltona's Welcome
Best Mobile Legends Support
To protect teammates, the following characters have the best support.
Angela
Angela has skills that can heal the teammates and shield them from attacks. She is effective because of her crowd control, and it is recommended to use her.
Passive: Smart Heart
Love Waves
Puppet-On-A-String
Heartguard
Kaja
Kaja also specializes in Control and Charge with skills to displace enemies. This hero can slow down enemies and reduce magic effects on your team. Some of his characteristics are
Passive: Wrath Sanction
Ring Of Order
Lightning Bomb
Divine Judgment